Detailed Product Description
Embrace the sophistication and efficiency of our Commercial Chafing Dish Set, a culinary staple designed for the discerning host. With an impressive 8Qt capacity, this collection ensures a warm, fresh, and ready-to-serve experience for any buffet or catering event. Crafted from food-grade stainless steel, these chafing dishes boast a mirror finish that not only adds a touch of elegance but also resists rust and simplifies cleaning.
Whether you're hosting a grand hotel breakfast, a bustling brunch, or a chic wedding banquet, our chafing dish set rises to the occasion. Its ample space is perfect for a variety of dishes, ensuring guests indulge in the flavors you've meticulously prepared. From the smooth, foldable frame to the protective lid handle that guards against heat, every detail of this set underscores practicality and style.
Our chafing dishes don't just warm food—they enhance presentation value, maintaining optimal temperature without sacrificing aesthetics. The lid lock feature showcases your cuisine while the sturdy support frame ensures stability. For ease of storage and transportation, the stackable design of the frames saves up to 50% space, a feature particularly beneficial for catering professionals with ever-changing venues.
Key Features
8 Qt ample capacity to serve a myriad of dishes
Food-grade stainless steel for durability and safety
Complete accessories set for a comprehensive solution
Applicable for a wide range of occasions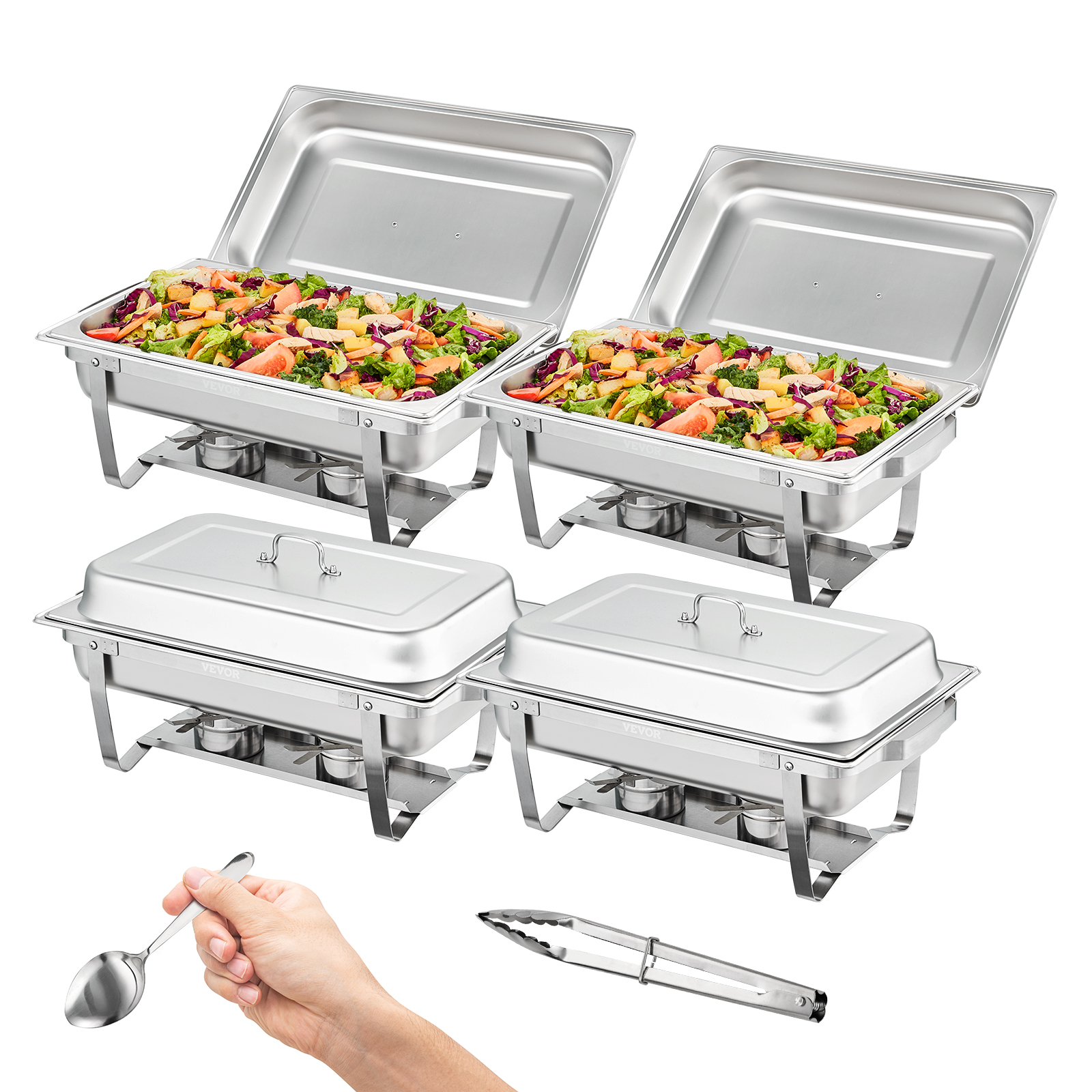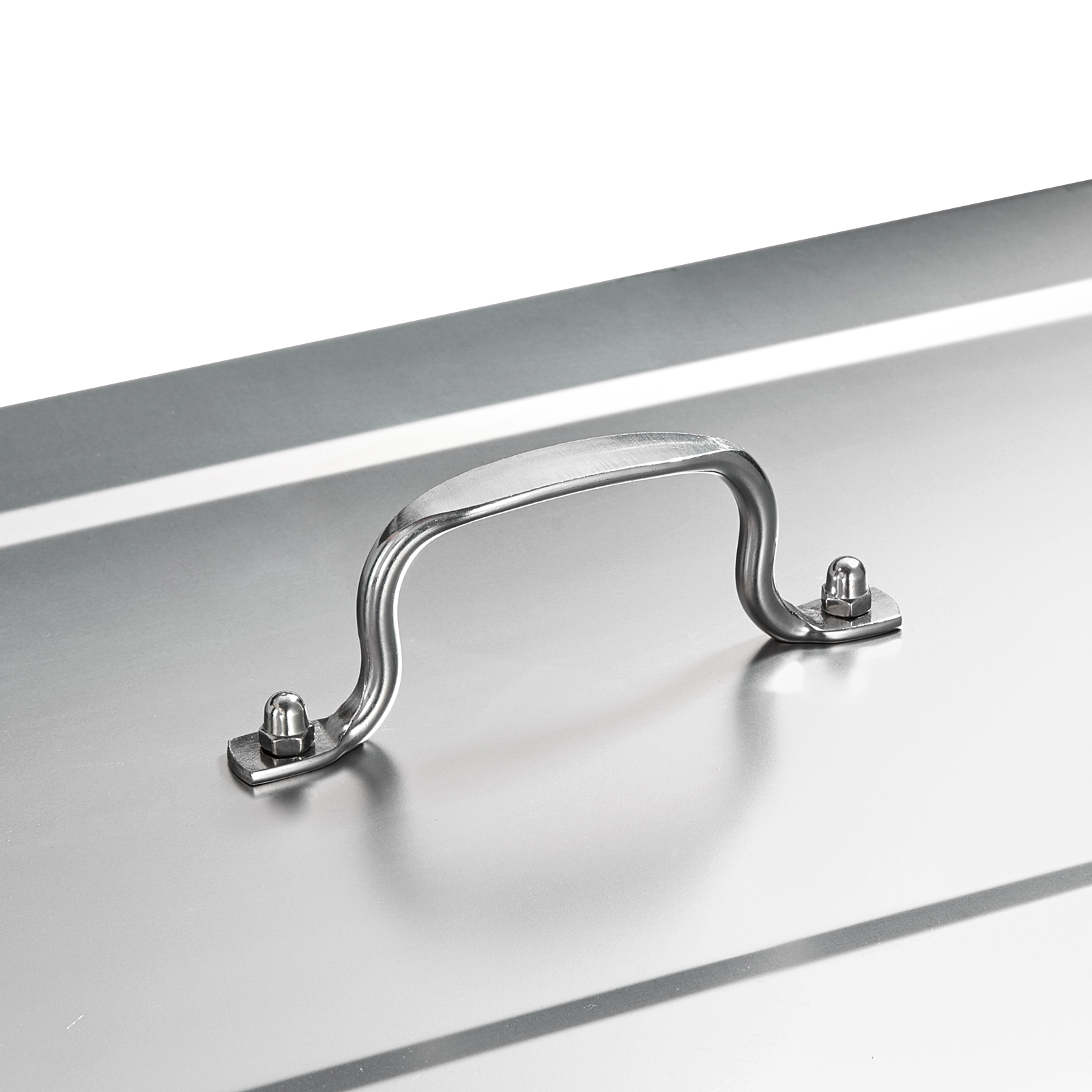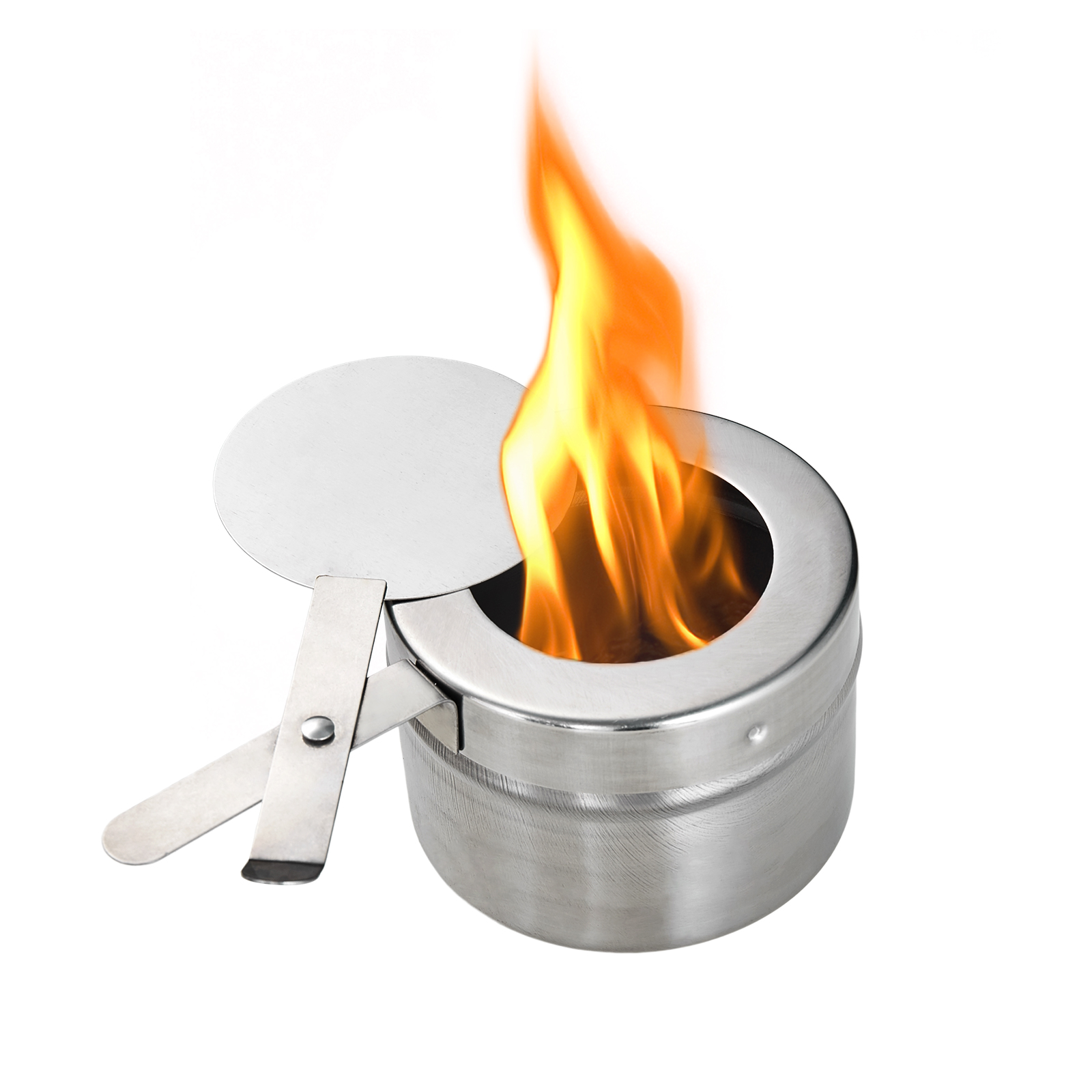 In-Depth Look
The magic of a perfectly orchestrated meal presentation lies in the details. Our Commercial Chafing Dish Set comes equipped with fuel holders designed for even heat distribution, ensuring your dishes remain at the desired temperature throughout your event. The water pan included in each set works in tandem with the fuel holder to create a gentle steam bath that keeps food moist and delectable.
The thoughtful design extends to convenience with ergonomic lid handles, allowing for safe and comfortable access to the dishes. The high-polish mirror finish not only impresses guests but also allows for quick and effortless cleaning. Each set includes a food pan, water pan, lid, and fuel holder—everything needed to present a professional and inviting buffet service.
Our chafing dishes are perfect for both indoor and outdoor settings, providing flexibility to caterers and party planners alike. They are an ideal match for events of all sizes, from corporate gatherings to intimate celebrations. The simple elegance of the design complements any decor, while the durability of the materials ensures a long service life, even under frequent use.
Usage and Care Instructions
Maximizing the performance of your Commercial Chafing Dish Set is straightforward. For setup, ensure that the chafing dish is on a stable, heat-resistant surface. Fill the water pan with hot water to just below the rim, and place the food pan on top. Light the chafing fuel and adjust the cover to control the flame. When the event concludes, allow the set to cool before disassembly.
Cleaning is equally simple. After use, wash each component with warm soapy water. The stainless steel construction not only stands up to frequent washing but also helps to prevent food from sticking, making cleanup a breeze. For persistent spots or stains, a gentle scouring pad can be used without damaging the mirror finish. With proper care, your chafing dishes will maintain their luster and functionality for years to come.
Elevate Your Buffet Today
Invest in the reliability and elegance of our Commercial Chafing Dish Set and transform your buffet service into an effortless, enchanting dining experience. Perfect for professional caterers and discerning hosts, our chafing dishes ensure that your cuisine takes center stage. Order now and set the stage for impeccable taste and unforgettable gatherings.
What's Included
4 x Rectangle Chafing Dishes
8 x Fuel Holders
4 x Full-Size Pans
4 x Water Pans
4 x Fuel Trays
4 x Frames
1 x Ladle
1 x Meal Clip
Specifications:
Brand: Luxe Catering Supplies
Model: LCS-8KIT-RECT
Material: Stainless Steel
Finish: Mirror
Capacity: 8 quarts per dish
Chafing Dish Size: 24″L x 14″W x 11.4″H
Water Pan Size: 22″L x 14″W x 4″H
Food Pan Size: 20.8″L x 12.8″W x 2.5″H
Fuel Holder Capacity: 2 cans per holder
Item Weight: 7.5 lbs per complete set
Product FAQs
Q: Can the chafing dishes be used on induction cooktops?A: No, these chafing dishes are designed for use with fuel holders only.
Q: Are the full-size pans dishwasher safe?A: Yes, the full-size pans are made of stainless steel and are dishwasher safe.
Q: How long will the fuel last in the fuel holders?A: Depending on the fuel canister, they typically last for 2-3 hours.
Q: Can the lids be locked in an upright position?A: Yes, the lids have a mechanism to stay open for convenient serving.
Q: Are replacement parts available?A: Yes, you can purchase replacement parts from Luxe Catering Supplies.
Q: Is assembly required for the chafing sets?A: Minimal assembly is required, and clear instructions are provided.
Q: What is the warranty period for this product?A: The product comes with a one-year warranty against manufacturing defects.
Product Tips
Tip 1: Always ensure water is present in the water pan to prevent burning the food.
Tip 2: Preheat the chafing dishes for 10-15 minutes before adding the food to maintain temperature.
Tip 3: Use high-quality chafing fuel to ensure consistent heat and to avoid odors.
Tip 4: Place the chafing dishes on a stable, heat-resistant surface to prevent accidents.
Tip 5: To avoid fingerprint marks, handle the mirror-finish surfaces with a soft cloth.
Tip 6: When not in use, store the chafing dishes in a dry place to prevent tarnishing.
Tip 7: Label the dishes with the name of the content for the convenience of your guests.