Enhance Customer Service with Our Premier Wireless Restaurant Pager System
Step into the future of customer service with our Wireless Restaurant Pager System, a paradigm of efficiency and convenience. Designed to streamline the way customers wait for services, this system is an indispensable tool for any business that values customer satisfaction and operational smoothness.

Product Overview
Our Wireless Restaurant Pager System is expertly crafted to meet the needs of any high-volume service environment. Each set includes a central transmitter with a 98-channel capacity and 16 robust pagers, each built to withstand the demands of a busy establishment.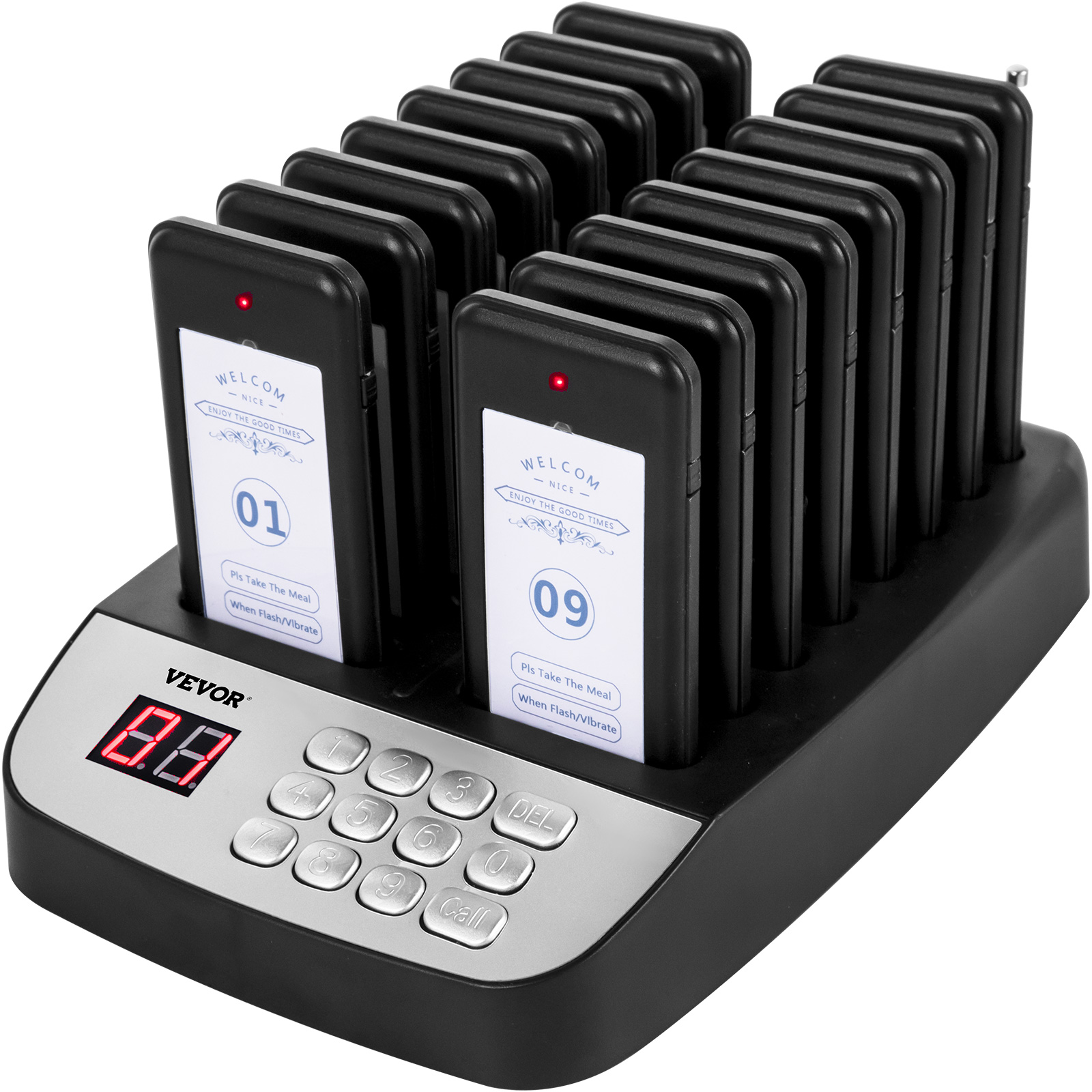 Intuitive and Durable Design
The pagers are intuitively designed for ease of use, with a simple interface that allows for immediate response. Durability is a cornerstone of their construction, ensuring that they can handle daily use without compromising on performance.
Key Features
Expansive Range
Freedom of movement is a key benefit, with an impressive range that ensures customers can roam freely without fear of missing their notification. Whether indoors or outdoors, the system maintains a strong signal to keep everyone connected.
Multiple Notification Modes
Customization is at your fingertips with multiple alert modes. Choose from vibration, flash, or buzzer alerts to tailor the notification experience to the needs of your environment and clientele.
Effortless Synchronization
Setting up your system is a breeze with our effortless synchronization process. Pagers can be easily added or removed from the system, allowing for flexible adjustments to match the scale of your operation.


Host Machine
Material: High-quality ABS Plastic
Frequency: 315 MHz with less than 100 mW power
Range: 300-500 meters for seamless communication
Power Supply: Efficient DC 9V1A adapter
Pager Specifications
Battery Life: Built-in 3.7V 200mAh battery ensures 24 hours of use
Charging: Convenient and eco-friendly rechargeable design
Alert Types: Vibration, flash, and buzzer for versatile notification options
Package Contents
16 x Pagers
1 x Transmitter Base
1 x Power Adapter
1 x User Manual for easy setup
Why Choose Our Wireless Pager System?
Opting for our Wireless Pager System means elevating your customer service to new heights. With its robust design, versatile functionality, and user-friendly interface, it's a smart investment for any business looking to enhance their service efficiency and customer satisfaction. Say goodbye to long queues and frustrated customers, and welcome a smoother, more organized service experience with open arms.